The first joint webinar with the HQTS group, which is a professional service provider for product quality testing and inspection, was conducted on 20 May 2021. Presentations were delivered by SPEAC experts Mark Gardiner and Torben Rahbek, who answered a dozen questions during the Q&A session. Opening remarks addressed by Mr. Chen Xiaolong from HQTS. Moderation was made by SPEAC team leader Gerhard Weihs.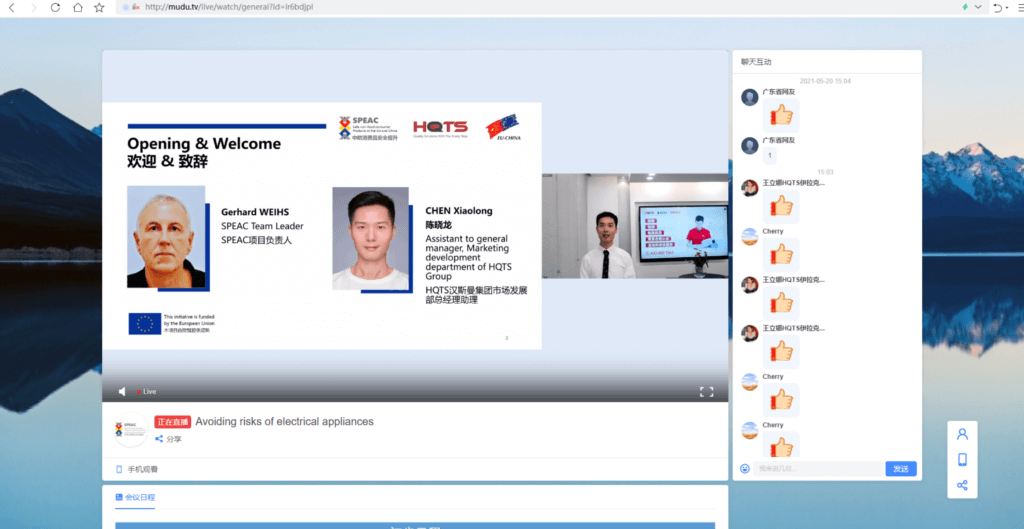 The webinar will be moderated by SPEAC Team Leader, Dr. Gerhard Weihs, the training presentation will be delivered by SPEAC senior experts Torben Rahbek and Mark Gardiner, who will also answer the questions from audiences.
The webinar provided an overview of the following topics:
• Safety problems found on electrical household appliances in the EU
• Managing product safety risks
• Product safety rules architecture
In addition, new EU rules on cross-border trade were explained on request of HQTS.
The target groups were manufacturers and experts from inspection and testing institutions. 1,697 participants attended the live event online.
The 90-minutes online training was broadcasted in ZOOM, connected to three live platforms MUDU, Yuguo, and Woyaoce and simultaneously interpreted. The recorded webinar can be streamed on: www.speac-project.eu.