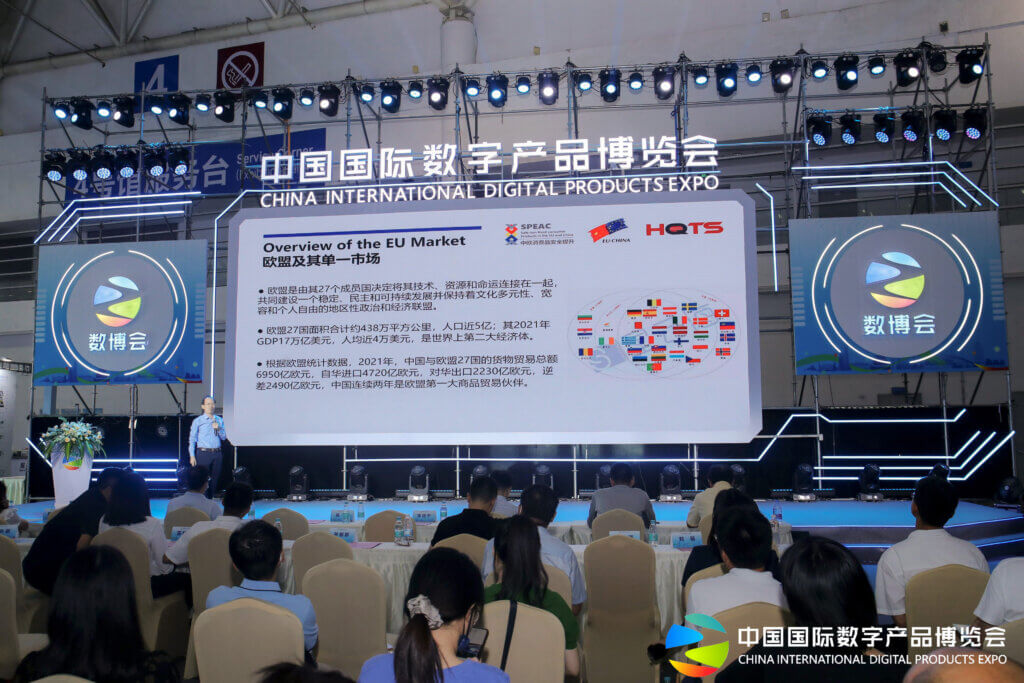 SPEAC key expert Dr. LIU Kaiming was invited to deliver a presentation to introduce EU Standards on non-food product's safety and EU market surveillance at the forum of "New foreign trade of digital manufacture, China's quality to the world", which is a part of the China International Digital Products Expo on 25 July 2022. The Expo is co-organized by China Ministry of Industry and Information Technology and Fujian Provincial Government, more than 5000 new technological corporations and 50,000 audiences attended.
The forum is organized by the China Association for Consumer Products Quality and Safety Promotion, the Alibaba Corporation and the HQTS group. About 100 participants, from governmental agencies, internet platform and cross-border e-commerce operators attended the forum on site and approximately 5,000 audiences followed the event online. Positive feedback was collected from participants and other speakers, who were interested in what SPEAC did and will do:
Over the past two years, the SPEAC project has conducted more than 40 joint webinars with partners, nearly 750,000 participants followed.
SPEAC experts delivered presentations at eight on-site events of third parties with more than 7,000 participants.
More webinars and activities are planned.
About 40 SPEAC Knowledge videos, specially tailored for Chinese enterprises, have been released on the SPEAC website.
Two useful tools are upcoming: The SPEAC Finder (comprehensive overview of EU product Safety Rules) and the SPEAC Academy (e-learning platform)
More information, please visit the SPEAC website or follow the SPEAC WeChat Account.