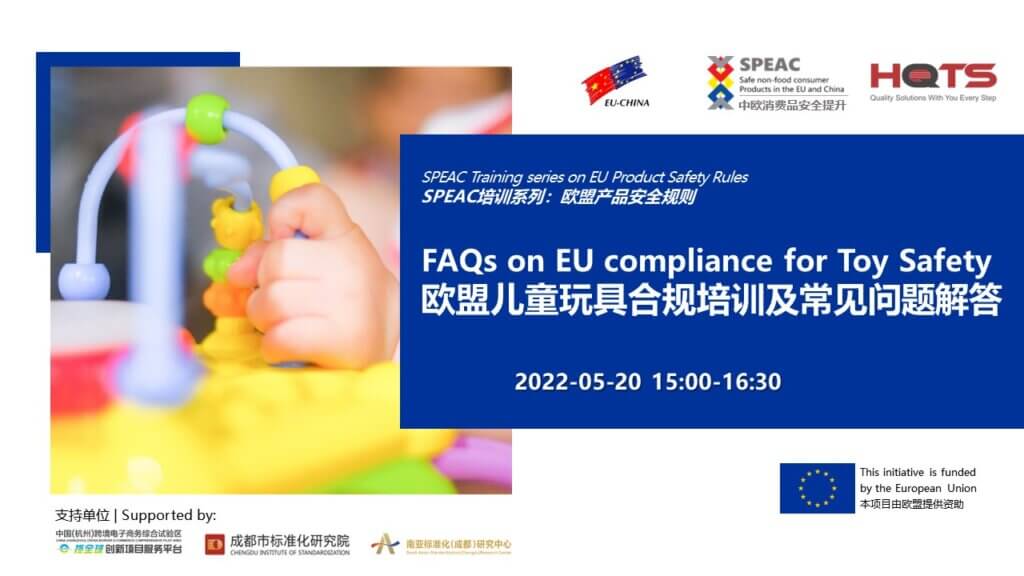 This seminar of the EU-funded SPEAC project on "FAQs on EU compliance for Toy Safety" was held in cooperation with HQTS group. on 20 May 2022. The webinar was live broadcasted in Chinese and English language, 300+ Chinese participants and nearly 300 South-East Asian participants, manufactures, traders and online sellers, attended..
According to the just-released EU Safety Gate annual report 2021, toys are one of the most alerted product categories, accounting for 20% of all alerts in 2021. This training session summarized the most frequently asked questions related to toys from the past more than 30 SPEAC trainings, discussed main toy product safety issues identified in the EU market, emphasized the importance of consumer protection and product safety in the context of consumer rights in the EU, so to support manufacturers in understanding EU requirements and obligations on product safety and finally supplying safer toy products for the market.
The 90-minutes online training was moderated by SPEAC Team Leader Dr. Gerhard WEIHS, Mrs. Orsolya CSORBA, counsellor at the Delegation of the European Union to China, and Mrs. Betsey ZHOU, the vice president of testing line of HQTS Group attended the training and made the opening remarks. The SPEAC key expert Mr. John LAWRANCE, senior Product Safety experts Mrs. Geraldine COSH and Mr. Richard SARGEANT delivered the training presentation. Experts from SPEAC and the European Commission answered dozens of questions raised by the audiences.
The recorded webinar can be streamed on the SPEAC website: www.speac-project.eu. More information, please visit the SPEAC website or follow the SPEAC WeChat Account.