SPEAC and AliExpress cooperate on a training series on Consumer Product Safety in the EU and China. The second training focused on the EU requirement of the Economic Operators to represent foreign businesses trading into the EU. It was organized on 22nd March 2021. 21,998 participants, merchants of AliExpress, joined this training online,5861 likes were received from the audiences.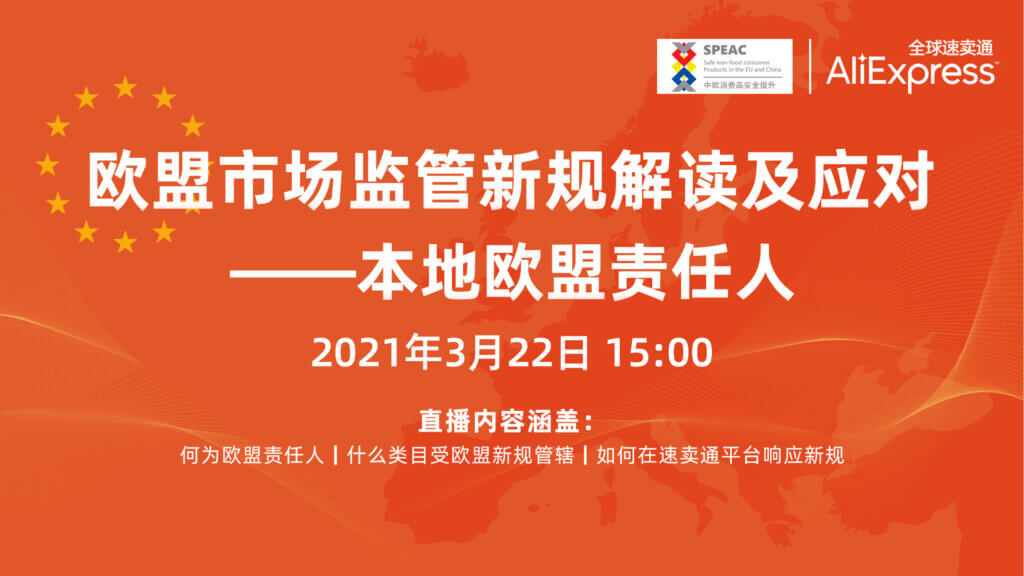 Within the short SPEAC KNOWLEDGE video,titled as "Do I need someone in the EU to represent my business?", the SPEAC experts introduced a new EU regulation on product safety, explained why the new requirement exists and provided possible solutions for Chinese online merchants. The new EU legislation demands, starting from 16 July 2021, that anybody who wants to sell products on the EU market must have an economic operator in the EU, which can be contacted by the EU authorities and consumers. This new rule will have a significant impact on sales crossing the EU border, especially online sales.
Besides sharing the information mentioned above, the SPEAC experts further answered selected participants' questions of general importance through the channel of AliExpress after the training.
The SPEAC KNOWLEDGE video on the Economic Operators has been published on the AliExpress University (link) and the SPEAC website (link). More activities will be organized soon!