The SPEAC webinar "Avoiding Risks of Electrical Household Appliances and Luminaries" was conducted on 28 May 2021 jointly with EMTEK Group and the China Certification & Inspection Group Guangdong (CCIC). Presentations were delivered by SPEAC experts Mark Gardiner and Torben Rahbek, opening remarks were addressed by EMTEK Group Vice General Manager Nicol Lee and CCIC Foshan Branch General Manager Chen Jingchao, moderated by SPEAC team leader Gerhard Weihs.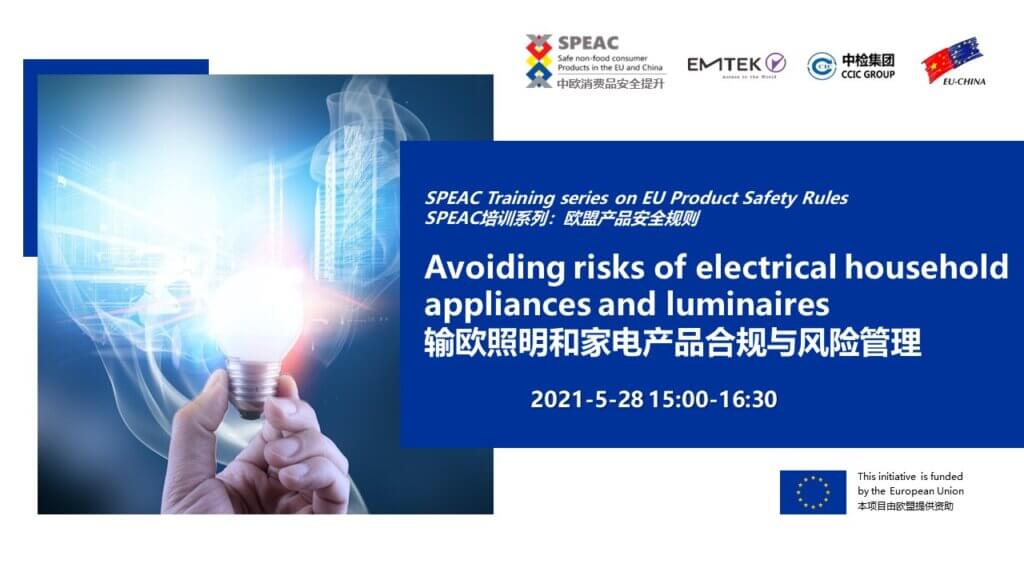 The webinar covered the following topics:
• Product safety issues identified in the EU and examples
• Typology of risks (recurring problems)
• Risk management and practical solutions
• EU requirements and manufacturers' obligations
• Sources of information on rules and tools
• New EU rules on cross-border trade
The audiences were mainly from manufacturers in Guangdong province. 464 participants attended the live event online.
The 90-minutes online training was broadcasted in ZOOM, connected to MUDU, and simultaneously interpreted. The parallel planned onsite event was cancelled on the short term because of COVID-19. The recorded webinar can be streamed on: www.speac-project.eu.