The SPEAC project conducted the third online training in cooperation with the Ningbo Customs District Technology Center (NCTC) on "EU Product Safety Rules" on 29 April 2021.
Mme. Orsolya CSORBA, the Counsellor from DG JUSTICE AND CONSUMERS at the Delegation of the European Union to China gave a welcome speech. Mr. Richard SARGEANT, SPEAC Senior Product Safety Expert, and Dr. DENG Yun from NCTC informed about the following topics:
Overview of mechanical safety problems found in toys – real examples and consequences
Introduction of mechanical hazards in toys
Managing risk and conformity assessments
Summary of the EU requirements and solutions for manufacturers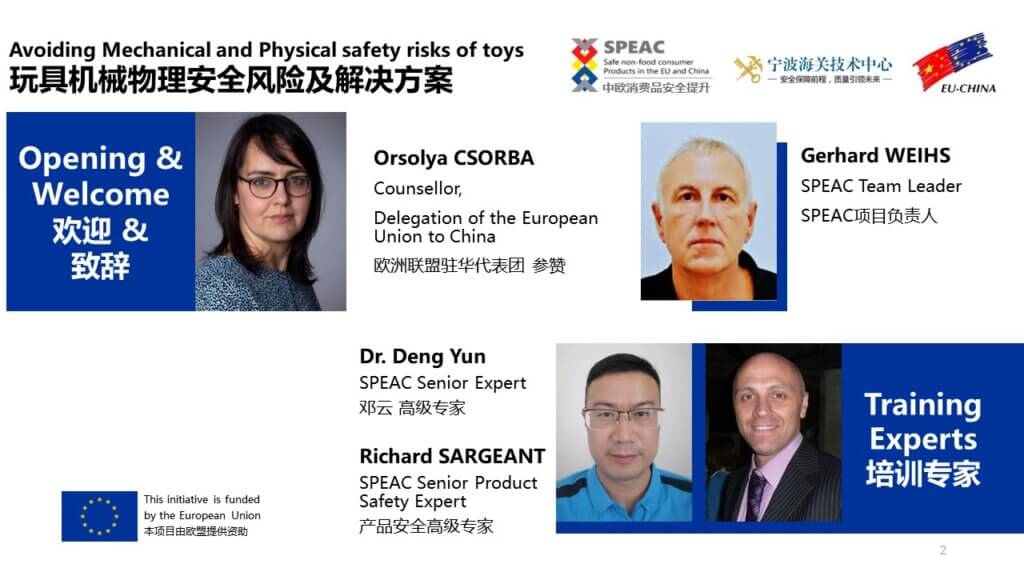 Moreover, with supports by the officials from EU DG JUST and DG GROW, the experts answered 12 questions collected from the audiences online.All questions and answers, as well as the training course, have been recorded in the bilingual training videos and will be published on the SPEAC website under the section "Recorded Training Events" .
368 participants from toy manufactories, testing institutions, market surveillance authorities and industrial associations joined the training. According to the survey during the training, 93% thought the training was very useful for their daily work. Training certificates were jointly issued by SPEAC and NCTC, and the presentation PPT were provided after the training.
At least two more trainings with NCTC are already scheduled in this year:
15:00-16:30 27th May, Safety risks of childcare articles
15:00-16:30 16th September, Safety risks of electrical appliances
More webinars with more partners will be conducted by SPEAC every month of 2021. Please stay focused on the SPEAC website.