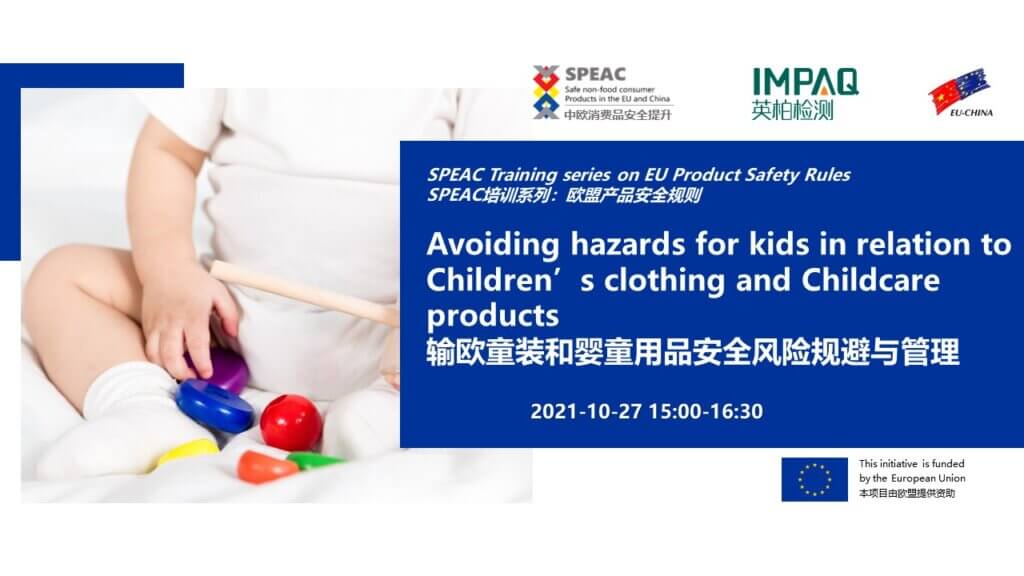 The EU-funded SPEAC project conducted the 25th product safety webinar on 27 October 2021. This seminar, titled as "Avoiding hazards for kids in relation to Children's clothing and Childcare products", was held in cooperation with IMPAQ Testing Technology Co., Ltd.
The 90-minutes online training was moderated by SPEAC Team Leader Gerhard Weihs. General Manager of Softline department of IMPAQ Mr. ZHANG Xiao delivered the opening speeches. The Presentations by SPEAC senior experts Mr. Richard SARGEANT and Dr. Deng Yun covered:
Examples of dangerous products found in the EU
Essentials of risk management
Safety obligations of manufacturers
Technical standards applicable to various product types ranging from children's clothing and baby articles
More than 200 participants from manufactures, agents and traders who export to the EU as well as service institutions such as market surveillance, inspection and testing companies, viewed the live broadcasting. With the technical instruction by SPEAC key expert Mr. John LAWRANCE, the training experts answered the questions raised by the audiences.
The recorded webinar can be streamed on the SPEAC website: www.speac-project.eu. More information, please visit the SPEAC website or follow the SPEAC WeChat Account.