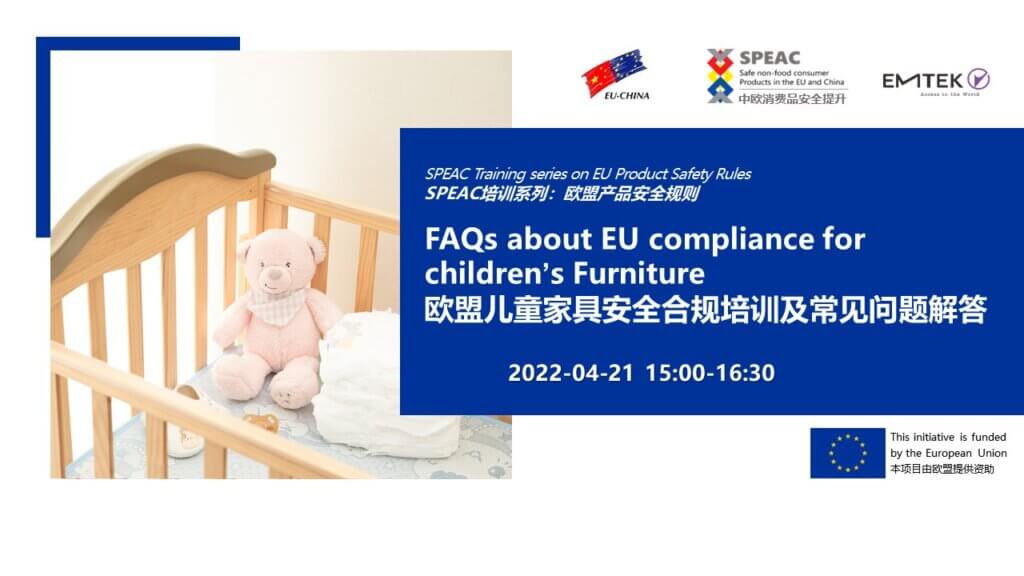 This seminar of the EU-funded SPEAC project on EU compliance for children's furniture was held in cooperation with EMTEK (Shenzhen) on 21 April 2022. Nearly 1,000 participants, manufacturers, merchants, importers, and online marketplaces attended.
The global market for children's furniture was valued at nearly 36 billion Euros in 2021 and is expected to expand. Young children are one of the most vulnerable consumer group in society, so the EU increases the efforts to protect their safety through strict legislation and surveillance. Chinese manufacturers and other relevant actors in the supply chain frequently ask questions about the key issues to ensure supplying safe furniture for children.
This training session presented the main product safety issues, explained specific requirements of EU legislation and standards, and provided practical solutions. To set the scene, the SPEAC experts emphasized the importance of consumer protection and product safety in the context of consumer rights in the EU.
The 90-minutes online training was moderated by SPEAC Team Leader Dr. Gerhard Weihs, the counsellor from the Delegation of the European Union to China Ms. Orsolya CSORBA and EMTEK Overseas BD Manager Ms. Mine SAN delivered the opening speeches. The SPEAC key expert Mr. John LAWRANCE, senior Product Safety experts Ms. Geraldine COSH and Mr. Richard SARGEANT delivered the training presentation and answered questions from participants.
The recorded webinar can be streamed on the SPEAC website: www.speac-project.eu. More information, please visit the SPEAC website or follow the SPEAC WeChat Account.