The fifth joint webinar with Ningbo Customs District Technology Center on "EU Product Safety Rules" was conducted successfully on 16 September 2021.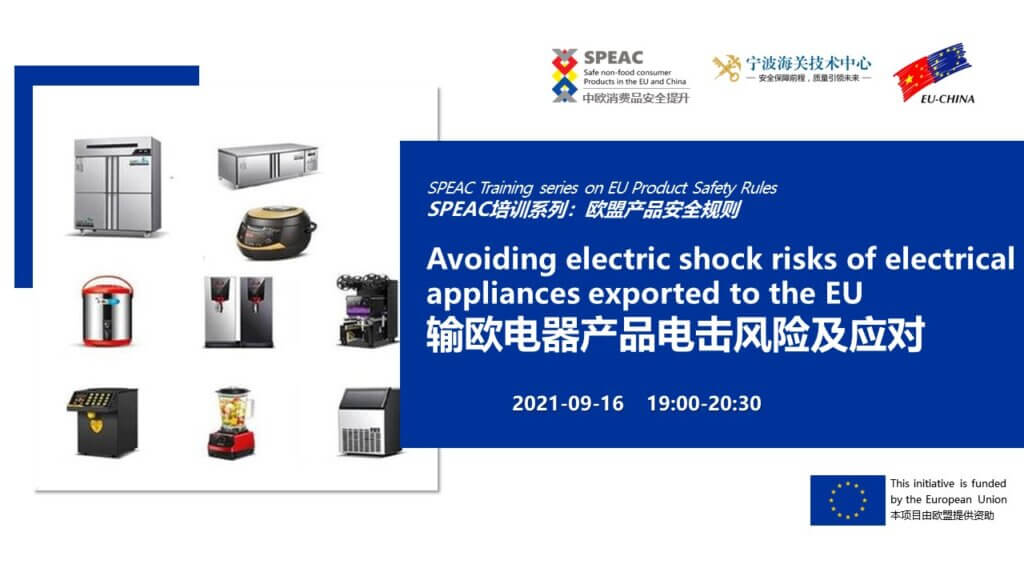 The opening remarks were delivered by SPEAC key expert John Lawrance. Moderation was provided by SPEAC Team Leader Gerhard Weihs. Presentations were delivered by SPEAC senior experts Mark GARDINER and DENG Yun. Together with John Lawrance, the two training experts answered several questions raised by the audiences.
The following topics will be covered:
Causes of electric shock
Overview of safety problems of Electrical appliances from China found in the EU
Typical case analysis and illustration of EU requirements and obligations
Practical solutions
The main target groups were manufacturers of typical electrical household appliances and associated services. 460 participants attended the event.
The 90-minutes online training was well received by our Chinese stakeholders. The recorded webinar can be streamed on: www.speac-project.eu.
SPEAC has scheduled 7 webinars in the following three months and is planning more webinars in next year. More information, please follow the SPEAC website or the SPEAC WeChat through scanning the QR code below.