Toy products, especially from China, are most frequently identified as dangerous products circulating in EU's RAPEX system. Chinese toy enterprises meet more serious challenges caused by more stringent requirements in new policies on toy product safety in recent years and the impact of the COVID-19 in 2020.
The SPEAC project (Safe non-food consumer Products in the EU and China), launched and funded by EU, aims to have safer products in EU market so that consumers are better protected, and their consumer rights are better safeguarded, and to contribute to the consumers trust that all products on sale in the EU must be safe.
Cooperated with China Toys and Juvenile Products Association (CTJPA), SPEAC developed a series training on "EU Product Safety Rules for Toys and Juvenile Products". The first training titled as "Recognizing and Avoiding Common Products Safety Problems" lived on Sep. 17 night. Dr. Gerhard Weihs, the team leader of SPEAC, and Mme. May LIANG, the president of CTJPA addressed the welcome speeches, officials from DG JUST (the Directorate General of Justice and Consumers of the European Commission) and from EU Delegation were present as observers, two senior EU experts on market surveillance and product safety delivered the training presentations and answered the enterprises' questions online.
310 participants in total from toy and juvenile products enterprises and institutions joined the training. According to the 80 feedbacks of a survey during the training, 81% thought the training was very useful for their daily work, and 19% was partly useful.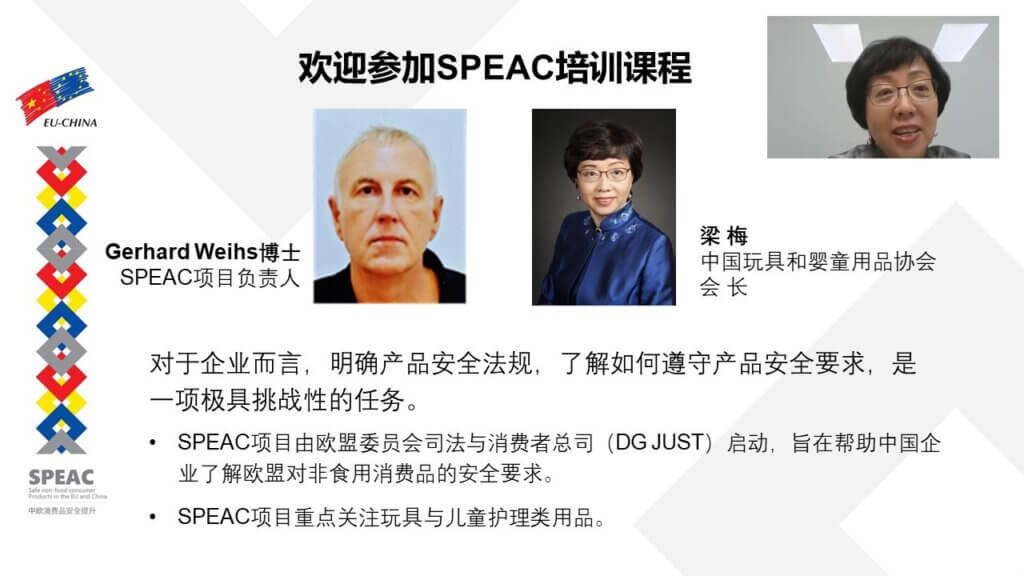 Besides training live, SPEAC provides further diverse supports and services for Chinese industries, such as training video playback and download, training certificates and presentation PPTs, etc. More trainings and activities will be organized soon, please keep interests and attentions!